Flex-Safe USA provides safety-conscious professionals with a cutting-edge solution: the Flex-Safe Folding Barricades. These innovative barricades offer unparalleled durability and effortless portability, ensuring effective crowd control for events, construction sites, and road work. With a strong emphasis on flexibility, durability, and user-friendliness, Flex-Safe Folding Barricades stand as the preferred choice for secure, on-the-go crowd management in any environment.
One person can carry a Flex-Safe® Folding Safety Barricade to the site and that person can set it up in under 30 seconds to create a safety barrier that is up to seven feet wide.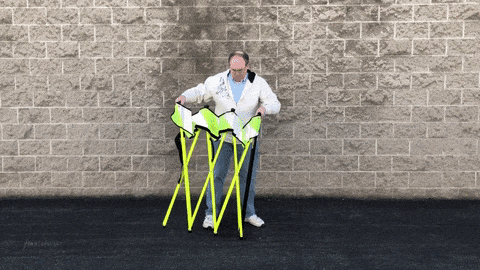 One of the foremost predicaments faced in the realm of temporary traffic control is the efficient transport of necessary equipment, particularly in emergency response situations. Flex-Safe barricades provide an elegant solution to this problem. Unlike traditional barricades that may pose logistical challenges due to their size and bulkiness, Flex-Safe barricades are designed to be easily transportable. Multiple barricades can be conveniently carried on emergency response or traffic control vehicles without consuming excessive space
Another significant challenge faced when managing worksites and incidents on the road is achieving adequate coverage. Flex-Safe barricades excel in this aspect as well. A single Flex-Safe barricade can provide an impressive coverage span of up to 7 feet. This expansive coverage ensures that worksites and incidents can be effectively cordoned off, enhancing safety for both workers and the public.
The ability to create substantial coverage with minimal barricades not only streamlines the setup process but also optimizes resource utilization. This makes Flex-Safe barricades a cost-effective choice for traffic control and incident management.
informative and communicative
In the realm of traffic control, crowd control, and event management, effective communication is paramount. Flex-Safe barricades offer a versatile platform for delivering vital information to drivers and pedestrians. By affixing the appropriate signs to these barricades, crucial information can be conveyed to road users and pedestrians, helping them understand the situation and providing clear directions for safe navigation.
These signs play a pivotal role in keeping roadways and events organized and ensuring the safety of all users. Whether it's guiding traffic through detours, warning of hazards ahead, or indicating alternate routes, Flex-Safe barricades facilitate clear and concise communication when normal roadways and sidewalk activities are disrupted. This ensures that drivers and pedestrians can make informed decisions, contributing to overall road safety.
Each barricade has reflective material on the back of the unit. The forward-facing banner rails may contain up to 255 square inches of reflective material. This exceeds many other products.  Our barricades are 37 inches tall when set up, while the commonly used traffic cones are only 24 inches.
Our folding barricades and safety barriers can also be customized to meet the specific needs of the user. They can be imprinted with logos, messages, and other information to help promote brands and events. This can be a useful tool for event organizers and contractors, as it can help to increase brand recognition and visibility.
Flex-Safe® Safety & Traffic Barricades and Signs are sourced and made in the USA and meet all contract specifications
ANSI & OSHA Color Compliant
Foldable and Portable
Proud Partners with AbilityOne